CalDigit AV Pro | Full Review
by CWTech
... The CalDigit AV Pro is a great storage solution for filmaker's & content creators, it is also a great choice for those looking for a compact, well designed & reliable storage solution that is also very fast....



Photoshop User Magazine (CalDigit AV Pro)
by Daniel M.East
... the USB 3 performance is outstanding with read and write speeds that hit their max without errors or much fluctuation. The solid build quality, more than acceptable fan noise level, and super-high coolness factor from their smartphone monitoring apps make this solution rock-solid... Read More…

Tweak Town (CalDigit AV Pro USB 3.0 HDD / SSD Review)
by Tyler Bernath
TweakTown Rating: 95% .

CalDigit enclosures are rather unique in that each of their drive "modules" comes in an archiving case to protect the drive from a myriad of disasters... At first glance the AV Pro from CalDigit is elegant. In fact, as soon as I pulled the enclosure out of the box, it put a smile on my face. Something about holding a heavy, well-built enclosure just does that. I am sure most of you, in the past or even now, have used cheaply built enclosures made out of plastic, maybe that enclosure fell off your desk and shattered and now you're in the market for something with a bit more class...Performance of this enclosure was exceptional with both the SSD and HDD. While the SSD was able to hit blazing speeds of 450MB/s read and 444MB/s write in our ATTO bench test, the hard drive module was equally impressive with its 180MB/s read and write…Read More…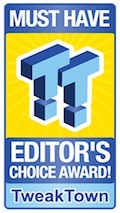 MacWorld (CalDigit AV Pro)
by Kean Bartelman
... If you are a media professional in need of a speedy desktop external drive, and want one that comes with some cool extras, the AV Pro could be the perfect fit. It's incredibly easy to use right out of the box and performed impressively in our lab tests. Plus, if you fill up a drive, the AV Pro's drive module allows you to quickly and easily remove and replace it with a fresh one. All in all, CalDigit's AV Pro is a nice external drive that's easy to recommend to users looking to maximize their production. Read More…

Mac Observer CalDigit AV Pro: Substantial Performance with a Price to Match
by Jim Tanous
...The AV Pro features removable drive modules and options for 2.5-inch SSD drives as well as 3.5-inch traditional hard drives... the drive also supports bus power over the USB and FireWire data cables when using an SSD configuration...In fact, we have yet to find another single-drive USB 3.0 device that can beat the AV Pro in terms of raw performance. …Read More…

Connected Digital World (Review of the CalDigit AV Pro External 240GB Solid State Drive)
by Andrew Edney
The design and feel of the drive is good and solid – its made of aluminium and it's not that heavy... If you are someone who does a lot with audio and video then you really should take a look at the AV Pro, it may just be the external drive you have been waiting for.Read More…

Bare Feats (CalDigit AV Pro with USB 3.0 and FireWire 800)
By rob-ART morgan
... The CalDigit AV Pro joins the newest generation of USB 3.0 enclosures that offer speed rivaling single drive eSATA and Thunderbolt enclosures. Thanks to the installed Intel 520 6G SSD, we measured as high as 426MB/s. Though CalDigit offers versions of the AV Pro that have HDDs up to 4TB. Read More…

We got served (Review: CalDigit AV Pro USB 3.0 External Hard Drive)
By Terry Walsh
... The AV Pro is also hot swappable – that means you can remove the installed drive and slot in a new drive whenever you wish – you simply need to use the accompanying pin keys to "unlock", then pull out the drive tray and off you go. For the Mac-loving storage geek who wants to keep a careful check on their device, a drive monitoring application for OS X is bundled with the AV Pro, offering diagnostic information and email alerts. Read More…

CalDigit AV Pro
By Martin Rechsteiner
Die ausziehbare Schublade bietet sowohl einer HDD als auch SSD einen Platz an. Bei den SSDs könnt ihr bis 480 GB maximale Grösse gehen, bei den HDDs sogar bis zu einer Grösse von 4TB. Somit seid ihr Flexibel in der Wahl des Speichermediums, je nachdem war ihr benötigt. Schnelligkeit, dann solltet ihr die SSD wählen, wenn es euch aber um möglichst viel Speicherplatz gehen ist natürlich die HDD die richtige Wahl. Read More…
Caldigit AV Pro harddisk anmeldelse – arbejder du med video eller billedredigering?
By Living Smart TV
Amerikanske Caldigit er kendt i professionelle kredse for at lave "high end" harddiske som er lynhurtige og meget holdbare – nu har de lavet en harddisk "for alle os andre Read More…