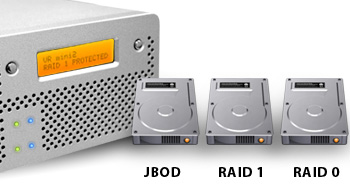 Portable RAID Storage On The Go.
The CalDigit VR mini 2 expands on the incredibly popular original VR mini from CalDigit, that revolutionized portable RAID protection for in-the-field data back up. Now offering the added benefit of USB 3.0 connectivity, the VR mini 2 is a versatile storage solution for professional use.
The VR mini 2 builds on the concept that no data is truly protected unless it is backed up twice. Featuring RAID 0, 1, and JBOD modes, the VR mini 2 is an eloquently versatile 100% hardware RAID device that can give you either performance, or protection. Other RAID devices on the market are either a RAID 0 or a RAID 1 device. The VR mini 2 gives you the best of both worlds. If you want outstanding performance, set the VR mini 2 to RAID 0, and take advantage of the fast transfer speeds. If you want to give your data the ultimate security it deserves, set the VR mini 2 to RAID 1, and your files are automatically backed up to both drives.
BUS POWERED
The one feature that makes the VR mini 2 a truly great portable RAID solution is it's ability to be bus powered whilst at the same time giving you the ultimate in hardware RAID protection. No longer do you have to go looking for power sources to run your external storage solutions. The VR mini 2 gets its power directly from the Firewire 800 interface cable. However, we still include a power adapter in the box should you need to plug it into the mains!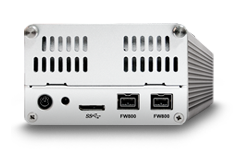 HARD CASE
Building on the concept of portable RAID storage, the VR mini 2 has an optional Hard Carry Case that can be purchased for the unit. The Hard Case is an ideal solution for traveling with the VR mini 2, as it perfectly houses the unit, and all of its accessories. The Hard Case is built from solid plastic that is incredibly robust, and has internal padding that cushions the VR mini 2 from any shocks.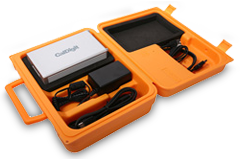 DRIVE MODULES &
ARCHIVE BOXES
The VR mini 2's modular design means that transferring drive modules between multiple VR mini 2 units is very easy, and practical. You can purchase extra CalDigit VR mini 2 Drive Modules to use with your VR mini 2. They come in a protective Archive Box which can be used to safely store, and transport your HDDs.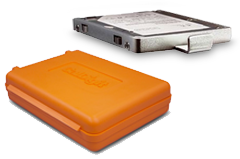 Key Features
● Hardware RAID - 0, 1 & JBOD
● Bus Powered
● Multiple Interface - Now with USB 3.0
● Removable Drive Modules - Hot Swappable
● Light & Portable Design
● Daisy Chain
● LCD Display
 ● LED Status Lights
 ● RAID Tool Software
 ● Aluminum Design
 ● Mac or PC
 ● Heat Dissipating Design
 ● OS Bootable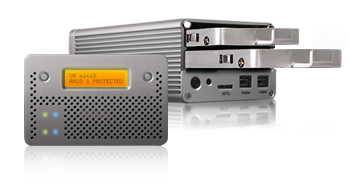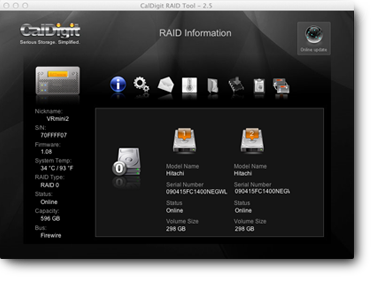 SMART STORAGE
The VR mini 2 includes a free piece of Mac, and PC software called RAID Tool. This powerful piece of software allows you to monitor, and configure your VR mini 2 from your computer. You do not have to use this software, as everything on the VR mini 2 can be configured via the LCD display on the front of the unit. CalDigit gives you this extra option if you prefer to monitor the VR mini 2 from your computer.
These are the features available via RAID Tool:
● Configure RAID Settings ● Temperature ● Health Status  
● Email Notification ● Event Log ● Firmware Updates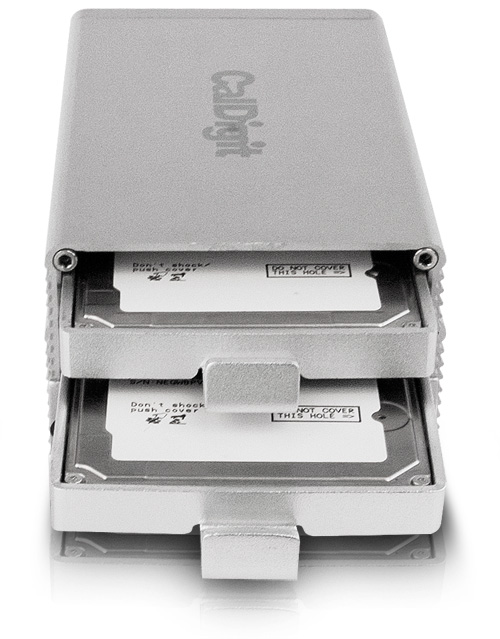 HARDWARE RAID
CalDigit has been at the cutting edge of storage technology for over 10 years, and we have been making solutions for the high demands of today's leading content creation software. The VR mini 2 is a 100% hardware RAID device. This means that it has a dedicated CPU, and Cache Memory inside the unit. The processes that the VR mini 2 completes are done by the CPU inside of the unit, and not by your computer. The benefit of this is that your computer can concentrate on running the tasks required by your software applications, and not on the demands of your storage device.
LCD DISPLAY
The CalDigit VR mini 2, unlike other two-bay storage solutions, has a visual LCD display on the front of the device that allows you to configure it, and view basic information without the need of any software. This is incredibly useful if the VR mini 2 is being used on location, and allows you to instantly know the status of your storage.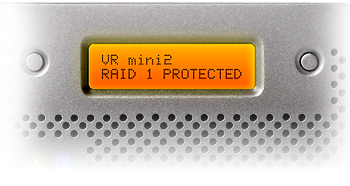 VR mini 2's LCD display features:
- Configure RAID settings (0, 1, JBOD)
- View Device name
- Monitor Temperature
- Monitor Hard Drive Health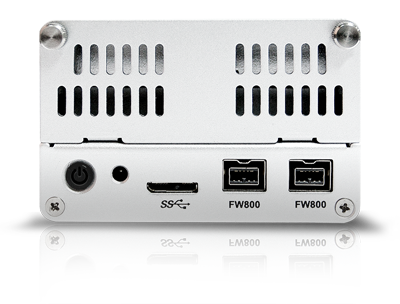 FLEXIBLE CONNECTIVITY
Now featuring USB 3.0 as well as Firewire 800, the VR mini 2 has you covered when it comes to interface connectivity.
Are you using the latest generation of Mac computers with USB 3.0 connectivity? The VR mini 2, in RAID 0, gives you outstanding speed for use with the latest in content creation software.
The VR mini 2 gives you this flexible connectivity at a time when other RAID devices on the market are removing connectivity options. Creative professionals need the assurance of multiple connectivity interfaces when working on different productions.
REMOVABLE DRIVE DESIGN
The back of the VR mini 2 has two removable Drive Modules. These removable drives allow you to expand the storage of your bus powered RAID. You will find that other RAID devices do not have this function. Many CalDigit customers use the VR mini 2 on location to back up data, and take out the Drive Modules in order to send them back to their post production facility to start working with the footage. This creates a seamless workflow that gives you RAID protection in the field, and a streamlined post production workflow, based around moving the VR mini 2's Drive Modules from the shoot to the edit. This is a truly powerful solution that only CalDigit can offer. The VR mini 2's Drive Modules are also hot swappable. This means that you do not even have to turn off the VR mini 2 before taking them out.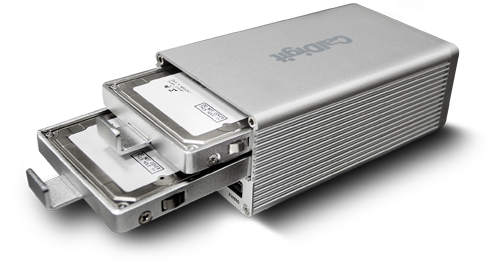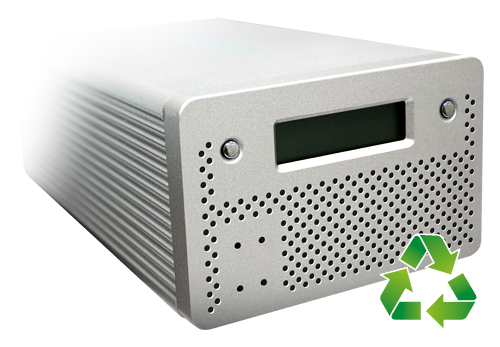 ALUMINUM DESIGN
The CalDigit VR mini 2 is made from 100% aluminum that is incredibly robust, and this helps to make the VR mini 2 incredibly light. This is important when traveling long distances. Aluminum also helps with heat dissipation, and is 100% recyclable.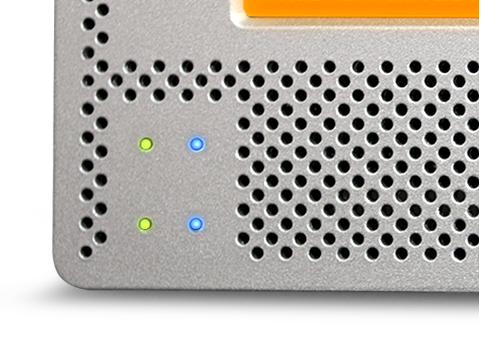 LED LIGHTS
The VR mini 2 has been designed with outstanding attention to detail. This really is a feature packed device. So much so that the VR mini 2 has LED status lights on the front of the unit that act as a visual indicator as to the status of the hard drives inside the unit. If the drives are healthy they light up green, and give you the peace of mind that other RAID devices cannot offer. The LED lights also flash when they are in use, allowing you to instantly see if your VR mini 2 is processing a task. These little features make a big difference, that in turn help to make CalDigit products the industry leading storage solutions.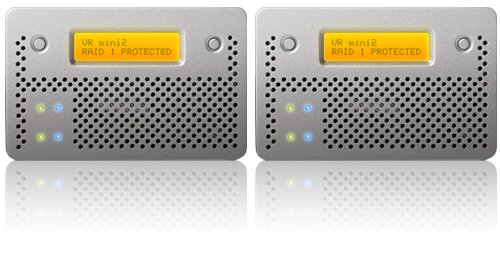 DAISY CHAIN
If you're using a multiple VR mini 2 set up, you can actually daisy chain your units via the Firewire ports. This is a great clutter free way of organizing your multiple VR mini 2 devices efficiently.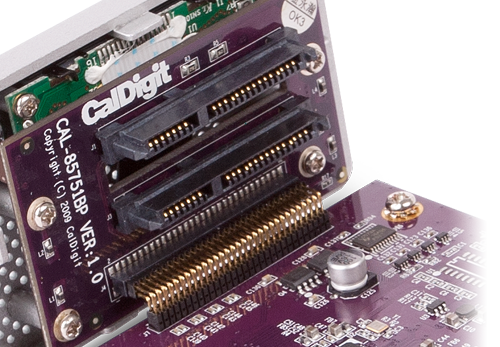 30μ Gold-Plated Molex® SATA Connector
Molex is considered to create some of best connectors in regards to signal integrity and reliability. Our Molex SATA connectors are also plated with 30μ inch of gold to ensure reliability throughout its lifetime. These connectors also allow the hard drive to attach directly to the board itself. Data and power are transferred through the board, removing the need to use insecure SATA and power cables, creating less points of failure.
30μ Gold-Plated Amphenol® Interface Connectors
CalDigit uses high-quality Amphenol USB 3.0 and FireWire 800 interface connectors which utilize 30μ inch or greater of gold plating on their points of contact. Amphenol is world-renowned for making high quality connectors that are built to last.
When connected via the USB 3.0 connection, in RAID 0, the VR mini 2 can reach speeds of 180MB/s! That means that VR mini 2 can transfer a 2GB file in just over 11 seconds!
If the VR mini 2 is set to RAID 1 it is capable of speeds of 85MB/s.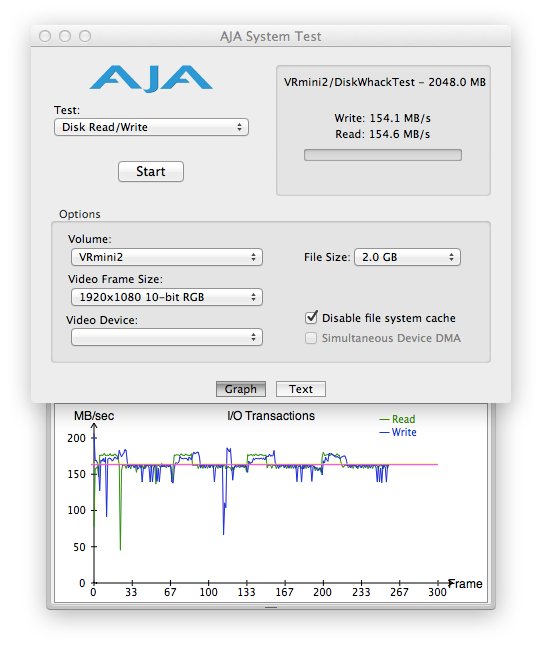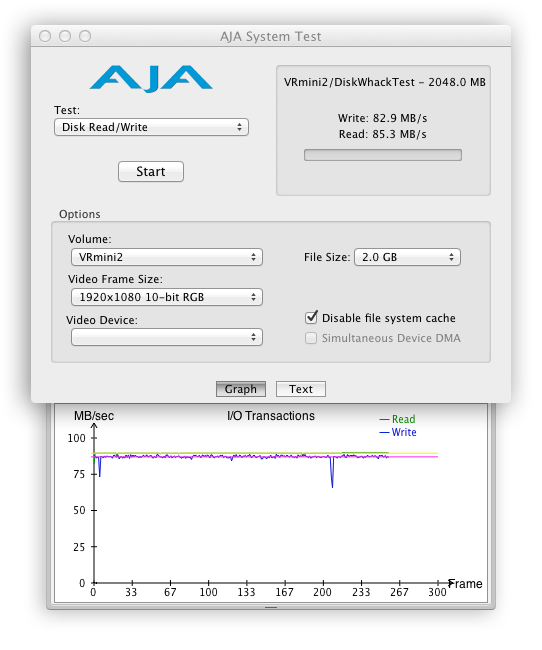 RAID 0                             RAID 1