Interface : Thunderbolt™ 2 & USB 3.0 & eSATA & Audio In & Audio Out & HDMI Out & Gigabit Ethernet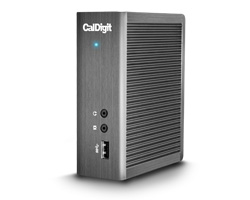 The CalDigit Thunderbolt™ Station 2 is the successor to the original Thunderbolt™ Station that brought a new level of connectivity to modern streamlined computers via a single Thunderbolt™ cable. The Thunderbolt™ Station 2's design combines the original Thunderbolt™ Station's outstanding functionality with a host of new features to create the ultimate Thunderbolt™ device.



Max Capacity: 12TB | Max Speed: 850MB/s | Drive Module: SSD or HDD Interface: Dual Thunderbolt™ Ports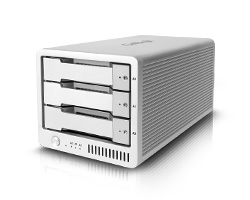 The T3 by CalDigit is a triple drive RAID array that offers performance and versatility unrivaled by anything in its class. While priced similarly to dual bay RAID solutions, the extra drive in the T3 adds additional performance with a minimal footprint increase. For applications that require high performance drives, the T3 configured in RAID 0 can deliver up to 500 MB/s when configured with HDDs or 850 MB/s with SSDs. The T3 will do everything a dual drive RAID can and more. Why settle for two, when you can have three?